It's been a busy week at Scoil Mhuire NS with lots going on. Congratulations firstly to our Confirmation class of 2018 (5th and 6th class) who were confirmed on Tuesday by Bishop Noel O'Regan. It was a special day in our community and many thanks to Bishop O'Regan and to Fr. Alan, but in particular to Mr. O'Callaghan for all the fantastic work and guidance he gave to the children in preparing them for the sacrament. Also thanks to the parents who helped out with baking and refreshments in the parish hall directly after the Confirmation. It was very much appreciated and it helped in making it a special day for all involved.
On Thursday some of our senior classes had the privilage of calling into our local bookshop Anna B's to listen to renowned author Elizabeth Rose Murray. It was a rare but beneficial opportunity to meet and chat with a proven author and ask those questions which might one day help some of our students become authors themselves! Thanks to Elizabeth and Anna B's for the invite!
On Thursday and Friday Brigid Hartnett, community Garda from Bantry Garda station accepted our invitation to visit us at Scoil Mhuire NS where she gave a fantastically informative chat to our pupils about understanding the internet environment and its potential dangers. In this digital age, empowering your child to remain safe online is imperative and the setting of clear boundaries as well as parental involvement, right until they have the maturity to go it alone, is crucial. Brigid is very experienced, knowlegeable and skilled in this area. She spoke with all classes adapting her material accordingly and she will return after Easter on Wednesday April 11th when she will give a parent advice night. This will begin at 8pm in Fr. Hurley Hall and we ask and encourage all parents of the school, particularly parents of 5th and 6th classes to attend and gain some valuable information which will help you become more aware of how to ensure your child is safe online.
On Thursday Scoil Mhuire NS played host to somewhat of a mobile farm when Tomás and Marian Lannin kindly brought two young calves on a visit to the school. Junior and Senior Infants got to see and even pet the young animals. Some of the children took the visitors in their stride but for others it was a real 'mooo'ving and fun experience!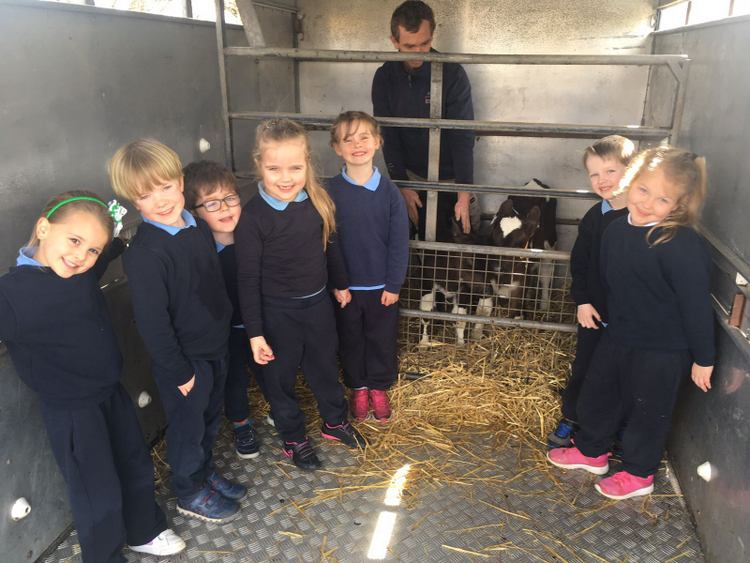 This past week also marked Seachtain na Gaeilge, a celebration of the Irish language and culture. All classes learnt the song 'Cé a chlúdaigh mé le Gaineamh?' and we performed it together in Fr. Hurley Hall on Friday. As you will notice from the photos we also had a Lá Glas or Green Day where children dressed up in green and Irish colours for St. Patrick's Day! Our 4th, 5th and 6th classes also took part in a 'Trá na gCeist'.